-86°C ULT Freezer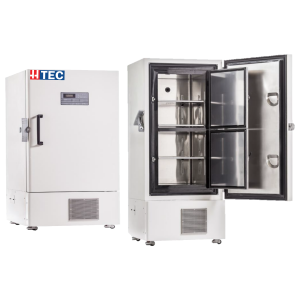 HUF-728E
Applications
The -86°C ultra-low temperature freezers are designed for long term preservation of virus, germs, vaccines, special food, medicines, reagents, etc.
Features :
Accurate temperature controller, setting temperature range is -40 ~-86°C, accuracy is 0.1 °C.
Suggested ambient temperature: +10~32°C.
Insulated inner door to ensure good temperature uniformity.
304 SS inner chamber and round corner for friendly using and easy cleaning.
Special designed structure for sample storage.
Wide available voltage range: 187V~242V.
Security :
Safety door lock and controller setting password to prevent unauthorized access.
Build-in back-up battery to power control system for 72 hours when power failure.
Visual and audible alarm system: High/low temperature, power failure, sensor failure, door ajar, condenser clean, high ambient.
Power failure protection: turn on delay of the cooling system after power failure.
Controller error protection: the cooling system will remember the normal working cycle and keep working depending on this memory when controller or two sensors failed.
Humanized design
Casters with stopper for easy moving and fixation.
Adjustable shelves for easy storing.
Condenser clean alarm to remind the user to clean the freezer regularly.
Optional Parts :
Touch screen, Test hole, Data logger, Chart recorder, LN2 back-up system, cold storage rack & box.
 Specifications :