HYGIENE WASHER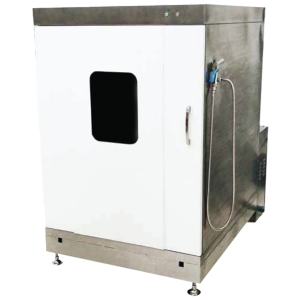 Product Description:
Hospital Acquired Infection (HAI) is ahuge problem which is currently faced in Hospitals, Nursing Homes and Clinics. HAIs are mostly spread through medical equipment which commonly shared among the patients. If the medical equipment is not washed & disinfected properly afterused, this creates the opportunity for bacteria to grow consequently and spreads the diseases to other patients. Pentamaster's Hygiene Washer is designedto wash & disinfect contaminated medical equipment such as Wheelchairs, CommodeChairs, Walking Aids, Washable Hospital Trolleys and Washable Emergency Carts.
RFID Receiver & Tag
Monitor & Tracks the washed frequency of medical equipment.
Ultraviolet Light
Further Enhances the disinfection process.
Auto Self-Cleaning Capability
to ensure no cross contamination.
Rotating Spray Arms
With top & sides rotating spray arms designed and a single stationed spray jet at the bottom,it is able to wash all areas including the hidden sports of the medical equipment.
Hygiene Washer Product Enquiry