HYPODERMIC NEEDLE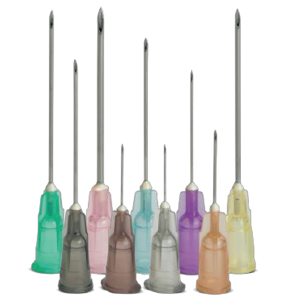 Product description
Featuring a translucent hub and regular bevel,needles are known worldwide for extreme sharpness.
They are ground and honed with a unique double-bevel design to provide a comfortable injection.
Ultra-thin wall needles provide more comfort with an increased flow.
Packaging is designed for safety and cost efficiency.
Plastic blister package is tamper evident, for assurance of sterility.
Peel-packs provide waste disposal cost savings versus the bulky plastic tube containers of some other needles.
Product details
1 box (100unit) – 18G , 21G , 23G , 24G , 25G, 27G -Non-toxin, – Non pyrogenic
18G X 1 1/2″ [1.2 X 38MM]
21G X 1″ [0.8 X 25MM]
21G X 1 1/2″ [0.8 X 38MM]
24G X 1″ [0.55 X 25MM]
23G X 1 1/4″ [0.6 X 32MM]
25G X 5/8″ [0.5 X 16MM]
25G X 1″ [0.5 X 25MM]
27G X 1/2″ [0.4 X 13MM]
Hypodermic Needle Product Enquiry